Welcome to Hotel Ny Hattenæs
Pamper Yourself in Beautiful, quiet Surroundings
For over 125 years, Ny Hattenæs has been a gathering place in the middle of Silkeborg's magnificent nature. The historic property is yet again a welcoming place to stay and eat with 14 beautifully renovated double rooms and the charming Restaurant Ny Hattenæs.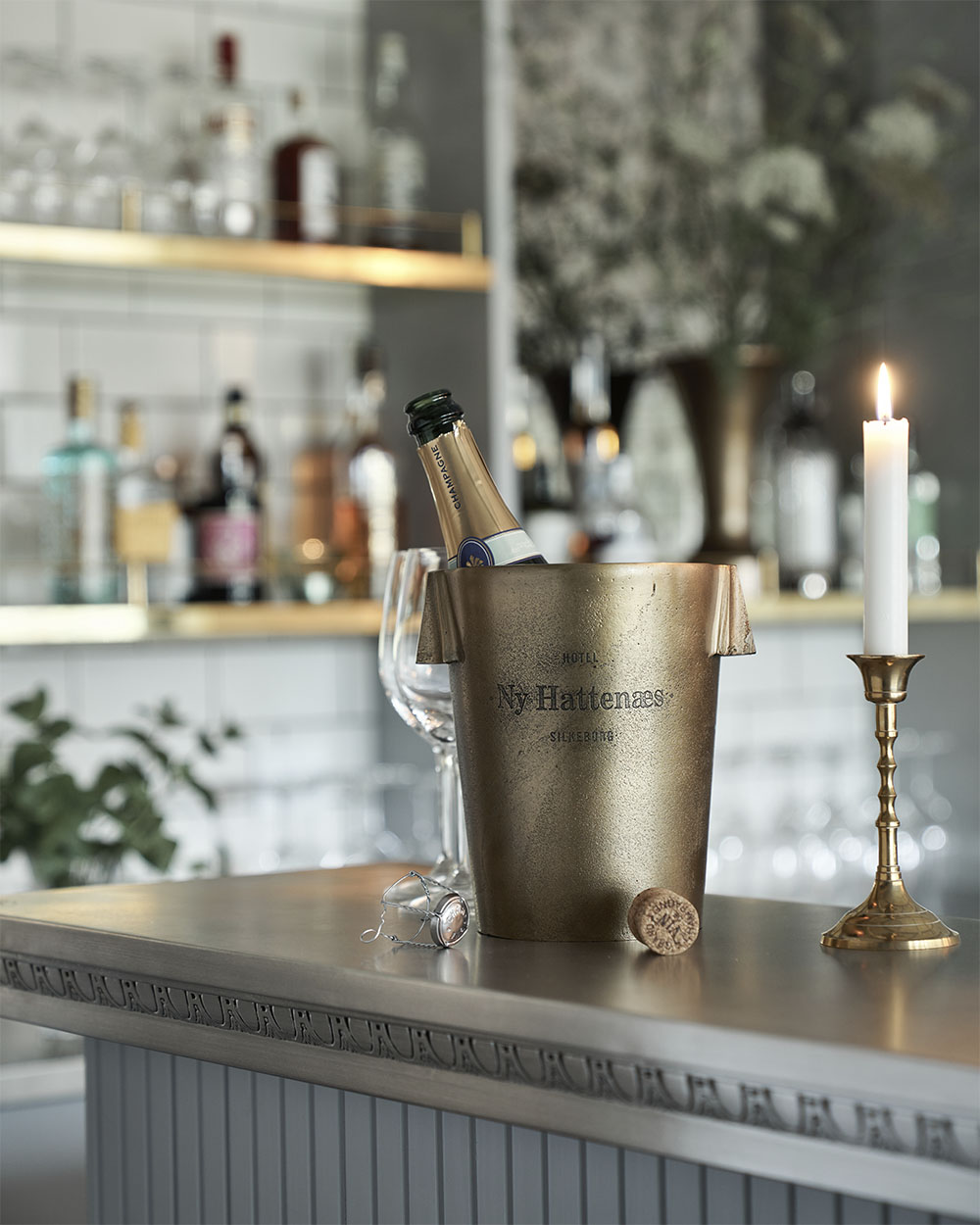 NEW YEAR´S STAY

Celebrate the new year at Hotel Ny Hattenæs with our exclusive New Year's stay!
Enjoy sublime food, selected wines from our sommelier, and a unique experience at Ny Hattenæs.
Breakfast is included in this unforgettable New Year's celebration.
YOU WILL FIND HOTEL NY HATTENÆS IN THE MIDDLE OF THE FOREST WITH AN ENCHANTING VIEW OF BRASSØ LAKE.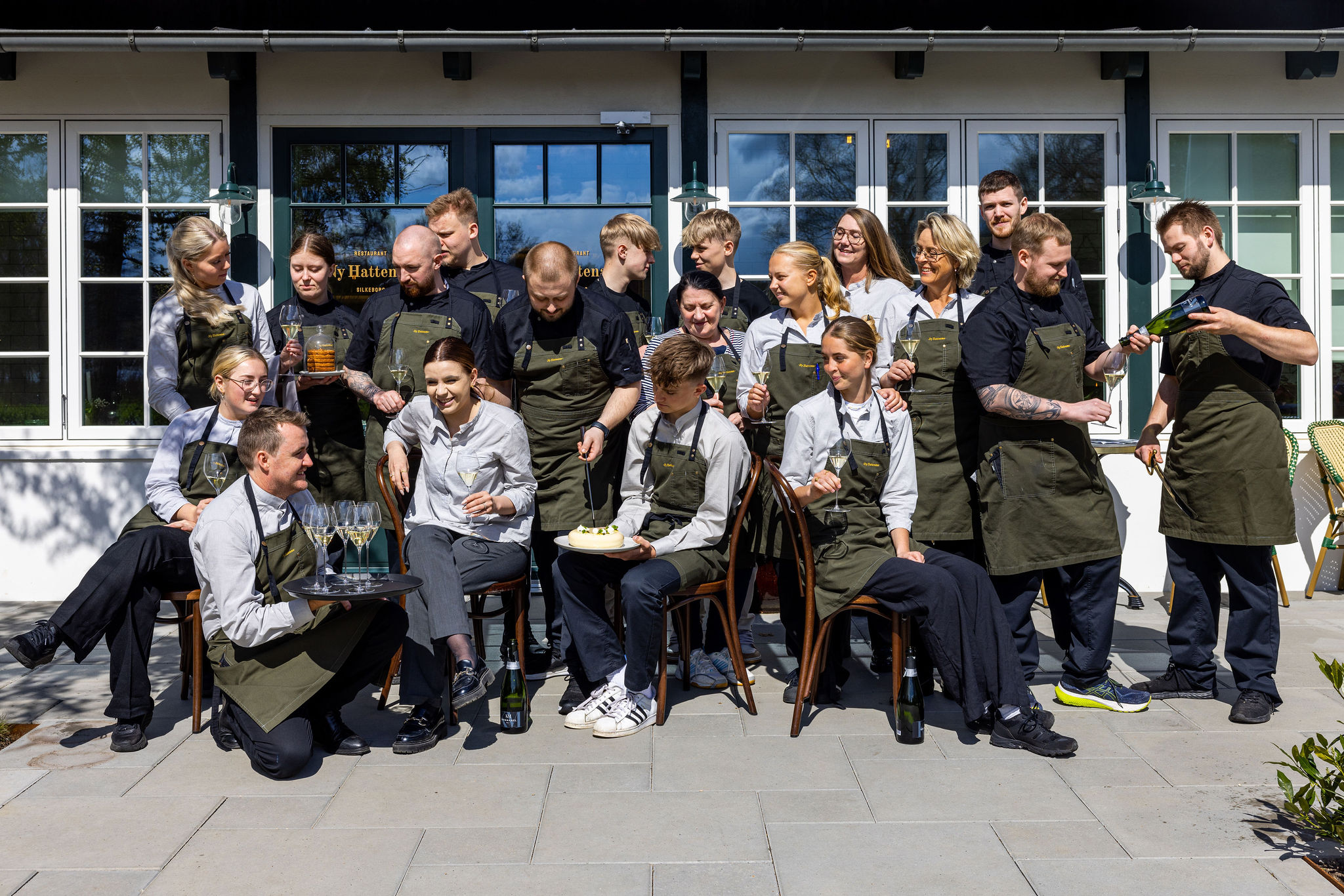 Since 1896, Ny Hattenæs has been a lively gathering place for happy guests. Whether you come by foot, by boat, or drive through the forest, it's impossible to not take in the history and beauty of the place. And that's exactly how it should be. We want Ny Hattenæs Hotel and Restaurant to be a place where people gather to make memories together. A place where everyone is welcome, whether you're in need of a refreshing stop after a long bicycle ride or just stopping by before a boat ride on the lake. It's a place for everyone who wants something great to eat before they go for a walk in the forest – or simply for the people who want a little break from the everyday hustle and bustle.
Ny Hattenæs Hotel has a fantastic location in the middle of Søhøjlandet's beautiful nature, and that encourages new adventures. You can kayak, canoe, and paddleboard on the lakes, cycle on the many mountain bike trails in the forest, put on your best hiking boots and explore the surroundings, or jump into the water from the boat bridge that sits close to the hotel.
You can also go on a wonderful walk that takes you through the forest and along the water's edge of Gudenåen, Denmark's longest river, and into the center of Silkeborg. In three kilometers, you find yourself in the middle of Silkeborg's center with museums, shops, and cafes aplenty.
During the summer period, it's possible to board Hjejleselskabet's boats on the jetty just by the hotel. When staying at Ny Hattenæs Hotel, the possibilities are many, and we're always ready with good recommendations and advice should you need it.
Celebrate the new year at Ny Hattenæs with our exclusive New Year's stay! Enjoy sublime food, selected wines from our sommelier, and a unique experience at Ny Hattenæs. Breakfast is included in this unforgettable New Year's celebration.
HOTEL
Our 14 double rooms have undergone a thorough renovation with respect for the original details. All rooms have their own bathroom and a unique view of either the lake or the forest.
RESTAURANT
At Restaurant Ny Hattenæs, we welcome everyone. We have an eye for all the small details and the history that makes this place so special. We offer an a la carte menu, light lunch dishes or a cup of coffee and a slice of cake with a view of the lake. If the weather is good, we are open for service on our large south-facing terrace, where you can enjoy the beautiful surroundings and life on the water.
EVENTS & PARTIES
Get in touch with us to find out more about the possibilities for hosting parties and events in our idyllic surroundings. In connection to Restaurant Ny Hattenæs, you will find the two banquet rooms, Blichersalen and Julianestuen, which have space for up to 80 people.
MEETINGS
If you're looking for a peaceful and inspiring place to hold your meeting, come visit us at Hotel Ny Hattenæs. Our Blichersal has all the AV equipment you need, and our kitchen is ready to pamper you during breaks, ensuring you have the energy for the day's agenda. Nature awaits just outside the door if you need a break from deep thoughts.
Ny Hattenæs dates back to 1900 when M.D. Fuglesang wanted to create:
"A FAVOURABLE GATHERING PLACE FOR BOTH THE CITY'S RESIDENTS AND FOR THE MANY TOURISTS ARRIVING HERE"
Up until 2011 when it was converted into a conference center, Ny Hattenæs always remained a hotel, although with changing owners. In 2020, Ny Hattenæs was purchased by the current owners who have renovated the entire hotel over the course of two years.
Among the locals, Ny Hattenæs Hotel is known for having hosted many private parties and events over the years, as well as numerous school trips, Pentecost parties, Sankt Hans midsummer bonfire nights, and much more.
Current events at Nyhavnæs
At Hotel Nyhavnæs, we are delighted to welcome you to a wide range of events and gatherings. Keep an eye on our current events to see what's happening in the near future. We look forward to sharing these special moments with our guests!
holiday stay

&


Christmas party 
13/11- 22/12/2023

Get into the Christmas spirit at Ny Hattenæs. Experience a festive getaway or indulge in a fabulous Christmas lunch celebration.
Advent wreath.
29/11/2023
19:00 – 21:00

Embrace the festive coziness with your own Hotel Ny Hattenæs-inspired Advent wreath, surrounded by the beauty of nature. Let Arrild Living guide you in crafting the perfect decoration, providing the necessary tools for a unique creation. Revel in the evening with the kitchen's homemade white mulled wine and other Christmas treats
New Year's Eve
31/12/2023

Hotel Ny Hattenæs invites you to start the new year with a bang!
Sign up for our newsletter